Description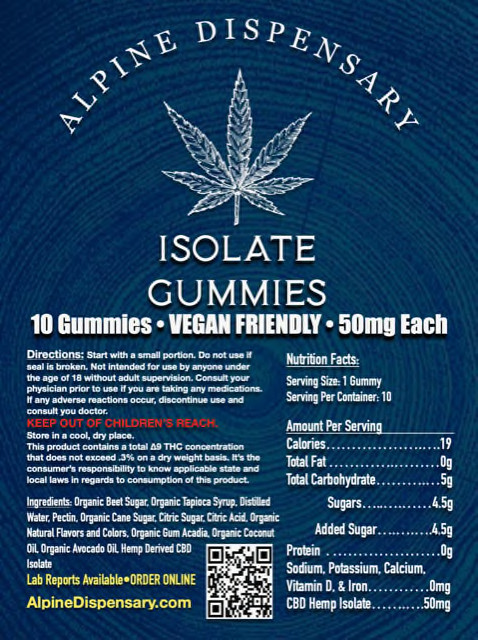 With 50mg of CBD per gummy, Alpine Dispensary's Vegan Gummies are a delicious and discreet way to get your daily amount of CBD! These tasty gummies are made with citrus pectin, so they have nutritional fiber to enhance bioavailability and are vegan friendly. Our Vegan Gummies are perfect for on-the-go!
Not intended for use by anyone under the age of 18 without adult supervision. Do not use if you are pregnant or nursing. Consult your physician prior to use if you are taking any medications. If any adverse reactions occur, discontinue use and consult your doctor. </em><em>This product contains a total delta-9-THC concentration that does not exceed 0.3% on a dry-weight basis. The use of this product could cause you to fail a drug test.
Warm Weather Disclaimer:

Alpine Dispensary is not responsible for melting or other damage caused by heat exposure during shipping.

Most products are fine and will not melt in transit. However, some types of product such as Gummies and chocolates can melt in the warm weather. We can't guarantee our heat-sensitive products will arrive in perfect shape – but we will do our best to insure they do. Here is how you can help: Be present for delivery and have someone available to accept the package so it doesn't sit outside in the heat. If the box feels warm, open it immediately to expose the product to the cooler air. Also, give the product a chance to firm up again before handling further. Please keep in mind, we do not accept returns or provide refunds for a melted product due to warm weather. If you are concerned about the possibilities of receiving a heat-sensitive product, and it being melted, we encourage you to order a different product.
Ingredients: Natural Syrup, Natural Sugar, Water, Citrus Pectin, Natural Flavor and Color, Full Spectrum Hemp Extract, Citric Acid and Malic Acid.
Suggested Use: Take one (1) or two (2) gummies daily preferably with a meal. Do NOT exceed two (2) gummies daily.